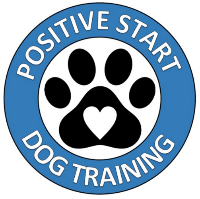 Recently I had the pleasure of meeting Holly Byrd with Positive Start Dog Training. I know there is a need and demand for her services in our community; so many dogs are re-homed due to behavioral issues that can be addressed and corrected. Please read on to learn more about Holly and her training business.
Hi, I am Holly, a professional animal trainer with over 15 years of experience and the proud owner of Positive Start Dog Training. Whether you are getting a new puppy, adopting an older dog, or wanting a behavioral fresh start with your current dog, my mission is to not only train well-mannered dogs through humane, ethical, and scientifically based training methods, but to also equip owners with the tools and knowledge to continue their dogs' behavioral learning at home.

Every animal and family situation is unique, so I create customized training plans tailored for you and your dog. I make training and leaning fun with a focus on positive reinforcement and building a relationship based on trust, never fear, and am committed to humane, ethical, and scientifically proven training methods using applied behavior analysis.

In my 15 years as a professional animal trainer, I have worked with pets and families as both a private Animal Behavior Consultant and as an Obedience Instructor, but I have also worked in top zoological facilities across the country training over 20 different species ranging from dolphins and elephants to bald eagles and walruses.

Dogs are members of the family and should be trained as such. At Positive Start Dog Training, your dog will be treated as part of our family and trained in our home. I offer 1:1 immersive Board & Train Programs and private Behavior Modification Consultations to address severe behavior issues such as aggression, separation anxiety, fear, and more.

Check out this video of Teddy from his Puppy Foundations Board & Train Program. He began his program at just 9 weeks old and is crushing it!
 
To learn more, please visit my website at PositiveStartDogTraining.com
This is not a "boot camp", it's becoming part of the FAMILY camp!
Holly Byrd
Owner & Animal Behavior Professional
(716) 508-2024
www.PositiveStartDogTraining.com