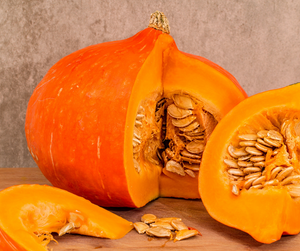 Pumpkin has many benefits for your pets!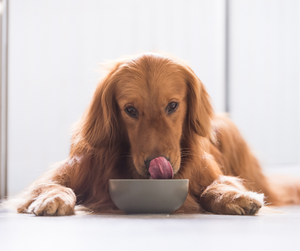 Wondering how much food to order? Generally speaking, we recommend ordering a bag size that your dog can finish within a month. This rule applies to all pet foods, not just ours. Just like a bag of chips, the pet food's taste and quality will start to deteriorate once exposed to air. If opened too long, it can even cause health problems. Exposure to air and humidity can speed up the rate at which dog foods degrade. As fats and proteins break down in air/moisture, they become rancid, and are at risk for bacterial contamination.
You can help keep the food as fresh as possible by keeping the food in the original packaging (designed to keep air out) and sealing it shut after each use. Our 20 lb bags have a strip for that purpose. The 5 lb bags can be rolled and clipped with a binder clip or chip clip. If you have a bin for food storage, consider placing the bag inside the bin rather than dumping the contents into the bin. If you DO dump the contents into the bin, be sure to wash and dry it thoroughly between uses.
There are approximately 4 cups per pound of food. If your dog eats 1 cup of food per day, you can estimate how much food you need per month this way:
30 days times one cup per day = 30 cups of food
30 cups of food divided by four cups per pound of food = 7.5 lbs of food needed each month
In this case, I would suggest ordering 10 lbs of food every 5 weeks. I also always recommend keeping an extra bag of food on hand just in case of an emergency! Sometimes dogs like the food so much that they convince someone in the family that they haven't been fed yet, or we may not be able to deliver due to weather-related travel restrictions. We offer a "grab and go" emergency bag that includes a bag of food as well as two cans of food, a silicone pop-up bowl, a poop bag dispenser, a slip lead, and a seatbelt car clip.
Even if your dog is a grazer, you should measure out each day's food. This will help alert you to potential health issues and will also keep the food as fresh as possible.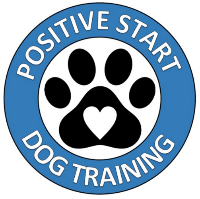 Recently I had the pleasure of meeting Holly Byrd with Positive Start Dog Training. I know there is a need and demand for her services in our community; so many dogs are re-homed due to behavioral issues that can be addressed and corrected. Please read on to learn more about Holly and her training business.
Spring is in the air! The weather is getting warmer, the grass is getting greener, and the robins are busy searching for worms. Spring brings a few downfalls with it as well...including mosquitoes!

April is National Heartworm Awareness Month. Thankfully, heartworm disease is not very prevalent in our area, but it isn't non-existent. Heartworms are ONLY transmitted by mosquitoes. The mosquito bites an infected animal, becomes infected itself, and then transmits the infective larvae to other animals through its bite. Dogs CANNOT contract heartworms simply by being around another infected dog.
Cats can also contract heartworm disease, but it's much less common in cats because they are not a great natural host. Unfortunately, there's no real cure for cats with heartworm disease.

Heartworm preventatives are available, but as with any medication, they all carry their own risks of side effects. Talk to your doctor about which preventative is most appropriate for your pet.You can further reduce your dog's risk of developing heartworm disease by creating a yard environment that isn't appealing to mosquitoes. Here are some ways you can create a less mosquito-friendly yard:
Eliminate any areas of standing water
Plant marigolds, a non-toxic flower which emit a smell that deters mosquitoes
Use citronella torches to deter mosquitoes (keep all oils out of pets' reach)
The American Heartworm Society is a wealth of great information about heartworm disease. If you're interested in learning more about the disease, symptoms, and risk factors, please visit their website here: American Heartworm Society
Drawing/coloring contest announcement!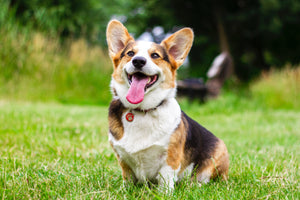 With summer now in full swing, the temperature has risen and people want to spend more time outdoors with their dog. This combination of high temperatures and increased activity leads to the concerning problem of heatstroke or heat exhaustion. Heatstroke can impact dogs in a wide variety of ways, from mild heatstroke to organ failure. If the correct steps are taken, heatstroke can be prevented or, if it becomes necessary, treated safely and correctly.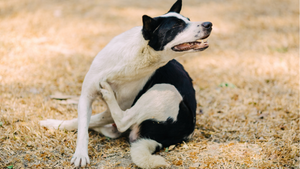 Is allergy season affecting your dog? We have some suggestions for natural prevention and relief!